With 40 years of experience in rug cleaning and restoration, you can count on Rug Boutique to bring out the original beauty of your carpets. All carpet cleaning is done by our professional experienced cleaners, paying special attention to fine quality, hand woven carpets.
Our cleaners have experience cleansing all fine materials including wool, silk, and wool/silk combinations. To help ensure maintenance of the quality of your carpet, all cleaning is done with chemical free water-based solution.
We specialize in cleaning and restoring all antique, semi-antique and other hand woven fine quality carpets. Our cleaning process includes removal of dust layers 3 times a year, hand washing of carpet with special shampoos, and whitening of fringes. We guarantee your satisfaction with our cleaning service!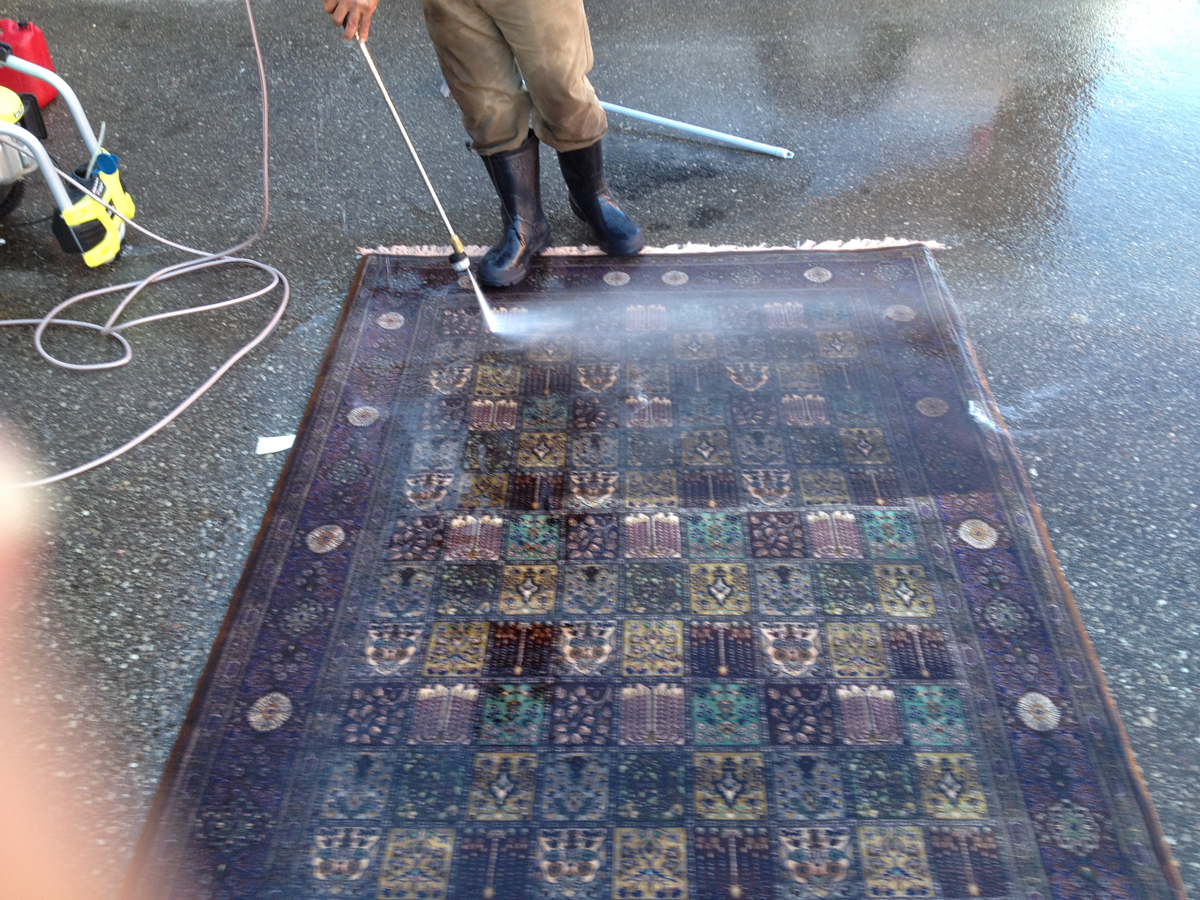 Rug Cleaning Toronto: Persian and other oriental rugs have a timeless quality that sets them apart from any other type of floor covering. It's a quality they'll retain for decades and more if they're properly cared for. Moth damage, dogs chews, cats sharpening their claws, water damage and more can all make a negative impact on your rug. Perhaps the most common form of damage though is that which results from not keeping the rug clean. Dirt, pet hair, things tracked in from out of doors, food, spilled drinks and more can all quietly gnaw away at the rug's integrity if they're not dealt with in a timely fashion.
Professional Rug Cleaning in Toronto
At The Rug Boutique we've been cleaning and restoring oriental rugs for as long as we've been crafting and collecting them. We're experts in the care of wool, silk and wool/silk combination carpets and will restore your rug to pristine condition without the use of harsh chemicals. We treat your rug like the work of art that it is, taking great pains to respect the delicate nature of the hand woven fibres while restoring the rug's colours to their natural vibrance.
We specialize in the care and restoration of high-quality, hand-woven traditional rugs. So whether you have a Persian carpet from Qom, Kashan, Isfahan, Nain, Kerman, Mashhad or Tabriz or a hand woven rug from any of the rug centres in Pakistan or India it's in good hands with the rug cleaning professionals of The Rug Boutique.
Scheduling professional rug cleaning in Toronto will:
Allow your investment to retain its value.
Allow our technicians to spot and repair small problems before they become major.
Allow you to rest easy knowing nothing was missed during the cleaning process.
Make sure your carpet is always free of dust mites and other allergens.
Allow you to spend your time on other things.
Many a DIYer will attempt to take on the job of cleaning their beloved Persian themselves and rent a machine to do the bulk of the work. In most cases however the carpet cleaning machine simply won't be up to the job and may actually damage your prized carpet, particularly if it's an older rug.
The Professional Difference
The Rug Boutique will make sure your antique, semi-antique or other high quality, hand woven carpet will receive the TLC it needs and deserves. We'll clean it right down to the base using specially formulated but gentle shampoos and make sure all fringes are restored to their original white. All our cleaning efforts are driven by the twin motivations of caring for these timeless artifacts that we love so much and providing complete customer satisfaction to our clients.
If you need professional rug cleaning in Toronto don't hesitate to contact The Rug Boutique, the Toronto area's most experienced and effective rug cleaning service. We've been helping rug owners ensure the vitality and value of their precious oriental carpets for 40 years. Don't trust the care, cleaning and restoration of your rugs to just anyone. Call The Rug Boutique today.