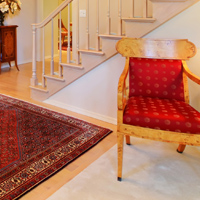 Rug shearing is a service used for hand woven carpets with colour fading caused by gradual time lapse or by direct sun/light exposure. Over time carpets may begin to dull or lose their colour intensity. Shearing is used to restore the vibrancy of your carpets. Rug shearing is done by careful thin-layer shaving of the top 1 millimeter of the carpet allowing for full colour revival. Shearing is performed with a special Shearing Machine brought in from Iran and used by hand. Trust in our shearing process to bring back the colour vibrancy to your interior décor!
Rug Shearing Toronto:  Shearing a rug may seem like a strange thing to do but it actually has plenty of solid justifications and is a technique that's been in use for centuries to restore the look and feel of an older carpet. Shearing creates a clean, level surface and repairs uneven pile heights and fraying. Shearing removes all manner of imperfection including matting, discoloration, fuzz and tufts. Rug shearing is a tried and true method for restoring a rug's finish, colours and for reasserting a pattern that may have become somewhat indistinct over time.
Rug Shearing for Toronto Rug Owners
The Rug Boutique offers a shearing service for hand-woven carpets that will restore the brilliance of rugs that have gradually dulled due to wear or UV light exposure. Rug shearing removes the top 1 millimetre of pile thereby exposing the less faded portion of the fabric. As a result you'll see noticeably more vibrant colours and sharper, more clearly defined patterns.
While we primarily shear rugs whose colours have been dulled by use and time there are in fact a number of other reasons why you may want to shear your beautiful Persian rug:
It's a good way to give a new rug an older look and feel.
It's used to thin out rugs for people not enamoured of thick pile.
When the weaving process is complete a new rug is sheared to even out the pile.
Shaving the top portion of the rug fibre helps remove fuzz and clarify the design.
When performed by experienced hands rug shearing in Toronto will produce whatever particular effect you have in mind, whether that be giving the rug an antique feel, restoring the sharpness of the pattern or just thinning out the rug; something that is quite popular with a number of homeowners. But shearing does not necessarily result in the rug being noticeably thinner. Some shears can take as little as 1/16 of an inch off the top, just enough to dig some colour out of the lower part of the fabric.
Why the Rug Boutique?
Shearing if done right has the ability to transform your old rug to its former brilliance or add just the right antique effect to a new rug. In the wrong hands however it can cause extensive damage to your expensive carpet that even skilled restoration specialists will have a hard time correcting.
When you enlist The Rug Boutique to handle the shearing of your precious oriental rug you can be sure the process will be carried out in a patient, deliberate fashion that will produce the best possible results. We've been in the oriental rug business for more than 35 years (more than 25 years in Toronto) and our craftsmen embody all that's best about the handicraft of rug creation and maintenance.
When it comes time to look for rug shearing in Toronto look no further that The Rug Boutique. We have the experience and equipment to do the job right and scores of satisfied customers who will testify to the quality and reliability of all our services.