Rug Boutique offers a rug repair and restoration service for all carpets, done carefully by professional crafts men with years of experience in the business. This service is particularly used for fine Persian carpets handed down for generations. We offer repair for commonly encountered moth damage as well as water damage, making your carpet look good as new! We also offer restoration of damaged and uneven edges and specialize in re-fringing, and repairing missing or damaged parts of your carpet. You can count on our expertise and craftsmanship to make your carpet new again!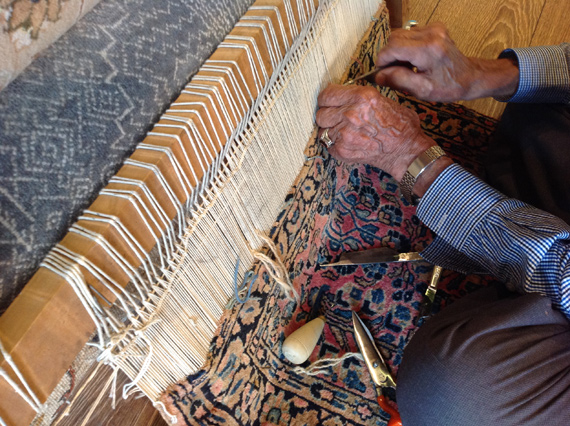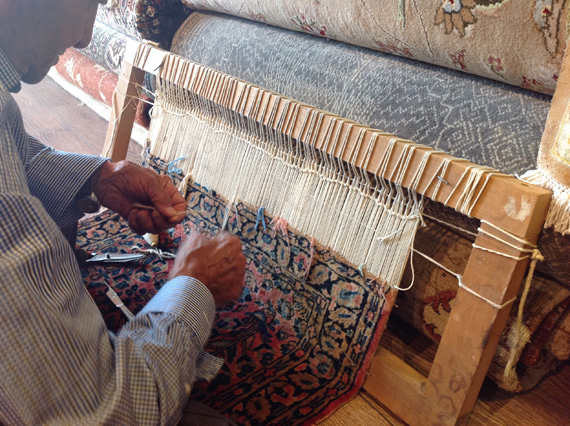 Rug Restoration Toronto: The specialists at The Rug Boutique provide the highest quality Persian/Oriental rug restoration in Toronto. We take your tired, faded rug and, using a combination of traditional methods and modern technology, bring it back to dazzling life. Our highly-trained experts are the best in the business and provide every rug with the attention and care it deserves. If your oriental masterpiece has seen brighter days the experts at The Rug Boutique will apply their many years of training and experience to rejuvenate it.
The Gold Standard of Rug Restoration in Toronto
In order to keep a high performance automobile running at peak efficiency the master mechanic must have a comprehensive knowledge about how the car was engineered and constructed. It's the same with high quality oriental carpets. Our restoration specialists have a thorough working knowledge of every aspect of the design and fabrication of every type of hand woven carpet whether it's from Iran, Pakistan, India or any other country. Our restoration services include:
Re-fringing: The fringe along the carpet's edge is often the first thing to go. Without an adequate fringe the edge of the weave itself will be exposed to wear and tear which will eventually require much more involved restoration efforts. Timely re-fringing will arrest damage to the edge before it becomes a separate issue.
Re-weaving: Re-weaving tests the skill and patience of the most experienced rug restoration specialists. Re-weaving is typically called for if a piece of furniture like an end table has been sitting on a rug in one position for an extended period of time. The experts at the Rug Boutique have been performing world-class carpet re-weaving for more than 35 years.
Pattern restoration: If you're looking at your once proud Persian and thinking that pattern degradation might require you to replace it or at least redecorate around parts of the rug bring it to the professionals at The Rug Boutique instead. They'll apply all their knowledge and experience to restore the pattern's natural definition and vibrancy.
Colour restoration: The colours in an oriental rug will change over time. There's little that can be done to completely prevent it. If your carpet has become faded by exposure to sunlight or heavy traffic it's not the end of the rug. Just bring it to the experts at The Rug Boutique. We'll restore the vibrant hues and intricate colour relationships that made the rug so appealing in the first place.
Types of damage that will typically require the services of a rug restoration specialist include:
Water damage
Dry rot
Mold damage
Damage from moths and beetles
Fading due to exposure to sunlight
Pet damage
And more…
All of our restoration work is carried out by our team of experts in our Thornhill facility. Our repair and restoration staff have decades of combined experience so you're never taking a chance by entrusting your prized rug to their care. If your Persian is in need of some TLC don't hesitate to call The Rug Boutique, rug restoration Toronto.