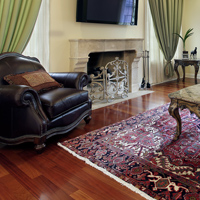 Rug Boutique offers a rug trading opportunity for clients to bring in and trade their pre-owned hand-made traditional woven carpets* for another of equal value from our show room. When its time to refresh your décor, come in and speak with us about our rug trading opportunity and allow us to help you find a new piece of art for your room.
Rug Trading Toronto: The Rug Boutique, long established as the finest rug crafting and collecting company in the GTA, provides our valued clients with an opportunity to reset their decor by trading their existing traditional, hand woven carpet for one of equal value from our vast collection. Everyone wins by trading in this fashion. The customer is able to give their home, condo or apartment a fresh look while the Rug Boutique updates the choices we're able to offer our customers.
The Fine Art of Rug Trading in Toronto
The Rug Boutique has offered finest quality Persian rugs to the people of Greater Toronto for more than 25 years. In that time we've built a large, discerning clientele who value the works we create and collect with a passion every bit as intense as our own. For this reason we're happy to offer our traditional rug trading service as an adjunct to our primary business.
When you engage in rug trading with The Rug Boutique you can:
Rest assured that the handwoven carpet you receive from The Rug Boutique in exchange for yours is of equal value and quality. We'll take you through every aspect of the rug's creation and provenance so that you are fully comfortable with the exchange.
Know that we stand behind every rug we create, sell or trade. While some rug merchants will attempt to pass inferior quality products off on their customers we go to great lengths to ensure every one of our rugs is of the highest quality and has an impeccable pedigree.
Take your exchange rug home and try it out for a time to see if it meshes with your decor and that you're comfortable with it. If it is not to your particular liking return it and try another. We're patient types who know the importance of finding the right rug for a space.
Take advantage of our vast knowledge of this timeless art form to learn more about all the rugs we sell; whether Persian, Indian, Pakistani or sourced from another country. We've been involved in the business of creating and selling fine carpeting for more than 35 years, with over 25 years in the Toronto market. Ask us about our products. We'll be happy to discuss them with you.
Rug trading in Toronto as practiced by The Rug Boutique is a culturally enriching experience that encourages learning about this ancient craft, developing a greater appreciation for these often one-of-a-kind artworks, engaging in a cultural exchange that benefits both parties and receiving a top-quality Persian or other rug that will provide you and your family years of enjoyment and service.
We take our rug trading in Toronto as seriously as we take our rug crafting, sourcing, collecting and selling. We welcome the opportunity to engage in a trade that will benefit both your home and our collection. If you have a high quality, hand woven traditional rug you would like to trade stop by our Thornhill showroom and talk to a member of The Rug Boutique family.